Yamadaya Deluxe Studio Room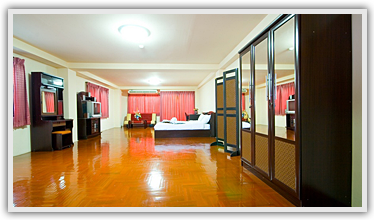 ROOM DESCRIPTION:
The Yamadaya Deluxe Studio is spacious enough for a King! The suite is an enormous 77 sqm with two bathrooms, kitchen and living area. The Yamadaya Deluxe studio is the very best in comfort, privacy and space.
77 square meters and two bathrooms! There is a kitchen with microwave oven, refrigerator and water boiler. The large TV even has a DVD player and Home Theater System! Whether you would like to relax on the sofa or work at your private desk the Deluxe Studio has everything you need to be comfortable and happy during your stay with us.
Deluxe Studio 25,000B/ Per month(Breakfast Included)
Room Rate
The Regular Price
Company Contract
Long Stay more than 6months
25,000B
Breakfast Included
24,000B
Breakfast Included
Medium Stay monthly
26,000B
Breakfast Included
25,000B
Breakfast Included
Daily Stay
1,300B
Breakfast Included
12,00B
Breakfast Included